Over 100 individuals averaged over a 49% increase in managing their workload skills three months after attending our Working Smart with Outlook Program. If you are looking for these types of performance gains visit the Working Smart with Outlook site and determine if registering for the upcoming Webinar workshop on February 28, 2006 is right for you.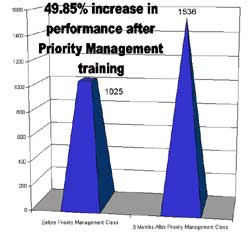 ---

Complementary Offer for [member_name_first], the choice is yours, which of two FREE best selling books QBQ! The Question Behind The Question!, or John´s newest book Flipping the Switch would you prefer? Both books provide the foundational text for this powerful development system. Either book is a quick one hour read, so my question is, will you invest the 60 minutes to judge the value of the content to your organization? If so, e-mail us at results@gulasgroup.com and we will contact you about your free book For more information on QBQ process click this link: http://www.gulasgroup.com/QBQ/qbqdoc2.shtml
Performance Tip: Control Your Workload via MS Outlook
Outlook 2003 is the key to so many tasks - from e-mailing to scheduling. The issue many Priority Managers face is configuring the tool from a reactive platform to a pro active platform. If you look at the four critical folders in MS Outlook, Calendar, Task Inbox and Contacts you notice they are not integrated to be pro active. If you want to know how to work smart in Outlook and become pro-active by integrating these folders into our Priority Manager Process join The Key Ingredients to Managing Your Workload In Today's "Tech Rich, Time Poor" Work Place", February 15, 2006 from 3:00 PM to 4:30 Central Time via MS Office On Line Web Meeting.
Get a notification and a quick preview of an incoming message. If your curiosity gets the best of you, you can momentarily preview an incoming message via a small caption above the task bar. Turn this feature on or off by clicking Tools > Options > E-mail Options > Advanced E-mail Options, and select Display a New Mail Desktop Alert.
Use a bigger and better reading pane. Display more information on the screen with easier-to-read vertical orientation. While viewing mail, click View > Reading Pane > Right.
Compare colleagues' calendars. For planning and scheduling a meeting, you can view you and your colleagues' calendars side-by-side. In the navigation pane, click Open A Shared Calendar to view those calendars you have permission to view.
Surf the Web in Outlook. To surf the Web, go to View > Toolbars > Web to display Web address bar. Enter a URL and the view pane turns into a browser, yet retains the Outlook Navigation Bar. Click any folder or the Back button to return to your e-mail.
Save time with keyboard shortcuts. Ctrl+1,2,3,4,5, will display Mail, Calendar, Contacts, Tasks, and Notes. While viewing mail, Ctrl-N creates a new message, Ctrl-S sends, Ctrl-R replies, Ctrl-Shift-R replies all, Ctrl-F forwards, and Ctrl-D deletes.
Access folders faster. Add frequently used folders to a Favorites list. Drag and drop a folder from the Mail Folders pane up to the Favorite Folders area. Drag and drop to reposition in Favorites, Right click to remove.
Manage incoming e-mails automatically. Customize all types of conditional e-mail management - moving to a folder, deleting, forwarding of items - based on many factors including sender, content, and subject. Go to Tools > Rules & Alerts > E-mail Rules > New Rule to create rules from templates or step through a Rules Wizard.
Your mailbox is over its size limit. Avoid getting those "Your mailbox is over its size limit" messages. Go to Tools > Mailbox Cleanup - a single tool that does four important cleanup tasks. Tools/Mailbox Cleanup can help with 1) a mailbox-size check, 2) finding old or large items, 3) archiving old items, and 4) emptying deleted items.
Stay on top of Spam. SmartScreen technology will automatically filter out junk e-mail to the Junk E-mail folder. Go to Tools > Options > Preferences > Junk E-mail to set options. Select the level of filtering you prefer, and create lists of Safe Senders ("white lists") and Blocked Senders ("black lists").
Help protect sensitive data. When e-mailing confidential messages, you can restrict e-mail forwarding, copying, and printing. When composing a message go to File> Permission > Do Not Forward.